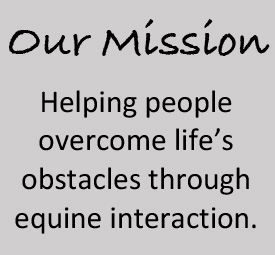 Silver Lining Riding Program started with only two horses, a handful of volunteers, and some big hearts.
Silver Lining Riding was founded by Amanda Adams Hart in 2011 to provide equine-assisted learning and riding programs in the west valley. We are a member of Certified Horsemanship Association (CHA) and offer adaptive riding programs to individuals with physical, mental, cognitive, or emotional challenges. Silver Lining Riding serves on average 35-40 clients per week ranging in age from 4 to age 90. Silver Lining Riding is a 501(c)(3) charity, and 2021 marks our 10 year anniversary of its receipt on nonprofit status.
We are committed to providing a family experience, designing programs to include siblings and family members whenever possible.
---
"When Silver Lining started in 2011, we had 6 riders to start the season. This year, we started the season with 35 riders and 50 volunteers. We are so thankful for the community's support as we continue to grow and touch more lives."
— Amanda Hart
Founder,
​Silver Lining Riding