Silver Lining Riding's Adaptive Riding and Adaptive Horsemanship programs focus on teaching riding and horsemanship skills while challenging students physically, cognitively, and socially.
A disability does not have to limit a person from riding horses. In fact, experiencing the motion of a horse can be very therapeutic. Horseback riding rhythmically moves the body in a manner similar to a human gait, and students with physical disabilities often show improvement in flexibility, balance, and muscle strength. Our certified riding instructors work with students as young as four to motivate and assist them in safely developing independent skills that can carry over to their everyday lives.
Classes are conducted primarily as semi-private or group lessons, in 6-week blocks. Working with parents/guardians/caregivers and the student, instructors set individualized goals that each person sets out to achieve at his/her own pace. With the support of the instructor, community volunteers, and their trusted horse, they are able to realize their full potential and achieve amazing results.
What are the benefits of Adaptive Riding and Adaptive Horsemanship?
Improved balance, strength, and range of motion
Improved coordination, motor skills, and reflexes
Improved respiration and circulation
Sensory integration
SILVER LINING RIDING PROGRAMS
Adaptive Riding – An equine-assisted activity for the purpose of contributing positively to the cognitive, physical, emotional, and social well-being of individuals with special needs. These lessons are adapted to each student's abilities, goals and objectives. Adaptive Riding provides benefits in the areas of health, education, sports, recreation, and leisure.
Adaptive Horsemanship – Students focus on working with their horse on the ground, building a stronger relationship. They will learn fundamental skills such as grooming, tacking, leading, etc. It is highly recommended that you include Adaptive Horsemanship with your Adaptive Riding lesson as groundwork with horses goes hand-in-hand with riding.
Special Olympics Team – Students get the chance to compete with horses at various local events. Students must qualify to participate in Special Olympics Athletics. Please talk to your instructor to determine if they qualify. Students must have completed a full 6-week session to be eligible.
---
Pricing for Adaptive Riding and Adaptive Horsemanship (effective AUGUST 30th, 2021)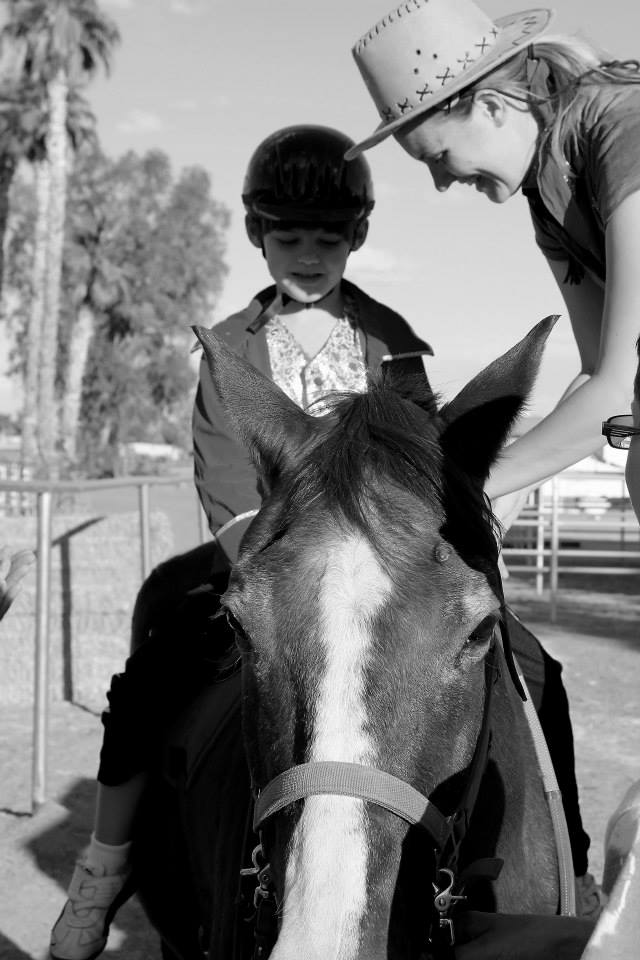 Group Lessons (4 Riders)
Adaptive Riding Class Only – 30 minutes = $35.00
Adaptive Riding + Adaptive Horsemanship – 60 minutes = $55.00
Semi-Private Lessons (2 Riders)
Adaptive Riding Class Only – 30 minutes = $45.00
Adaptive Riding + Adaptive Horsemanship – 60 minutes = $65.00
Private Lessons (Please contact the Program Manager for available days and times.)
Adaptive Riding Class Only = $60.00

Ready to start riding? Fill out a Student Registration form to get started today!
Still need more information? Contact Cori at cori@silverliningriding.org
FAQs
Q: Does insurance cover Adaptive Riding?
A: At this time, typical insurance does not cover Adaptive Riding since it is a recreational activity. In some cases, AHCCCS or ESA may provide supplemental funding for this activity. Contact your case manager for more information.
Q: How many times a week will I ride?
A: Students usually have one lesson per week.
Q: What days and times are classes offered?
A: Classes are offered Monday, Tuesday, Thursday, and Saturday, at various times throughout the morning, afternoon, and evening. No classes are offered on Wednesday, Friday, or Sunday.
Q: Am I too young or old for Adaptive Riding?
A: We serve students ranging from 4 years old to seniors!
Q: Are there any COVID restrictions at this time?
A: Please review our Health & Safety page for the latest information.